Pitch up your tent at Watermouth Cove Holiday Park and Beach Resort's Campsite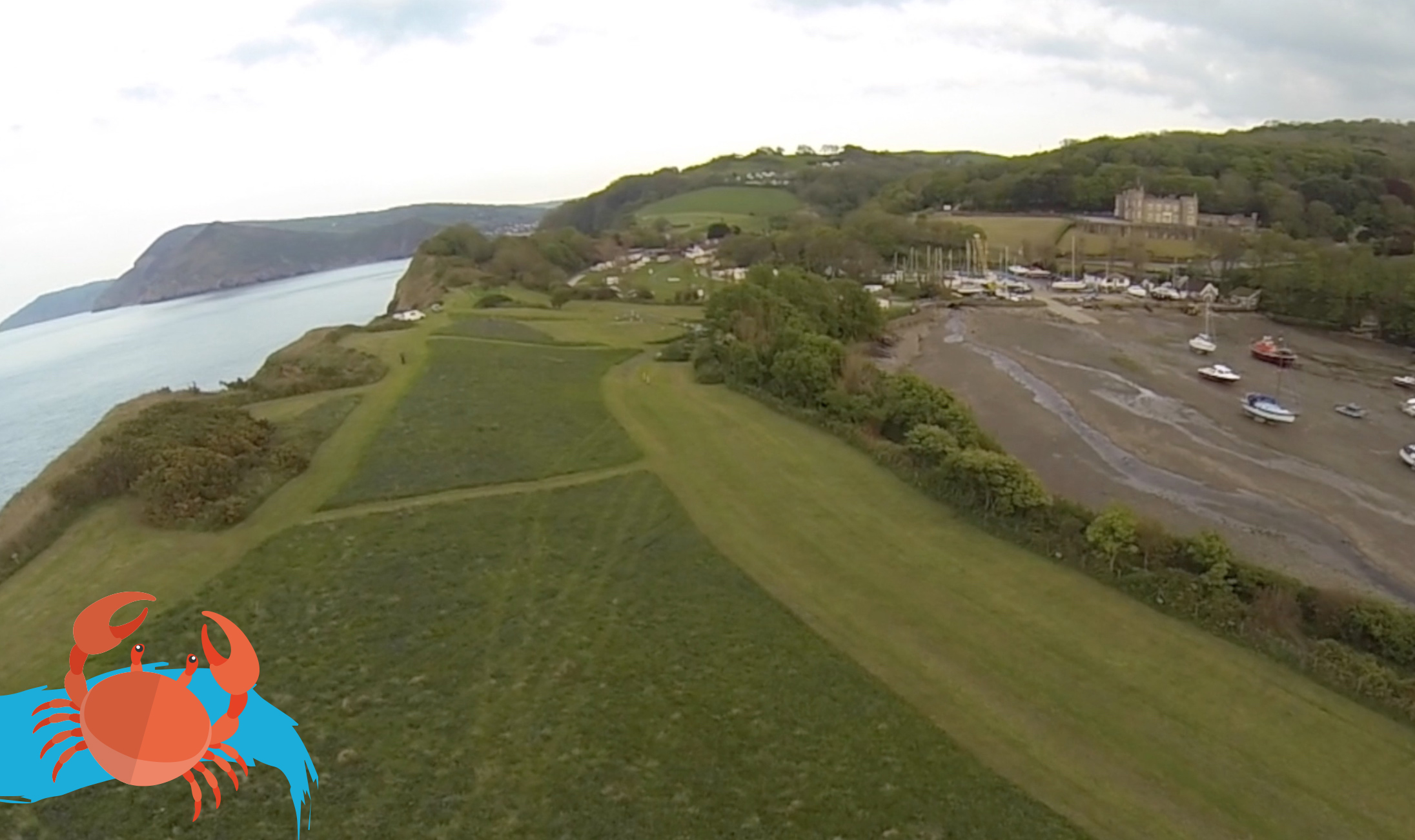 Please Note: Our Holiday Park is open from May 4th when all of our amenities are open. Although, we do open our main camping field March 30th, please be aware at this time of the year none of our facilities are open apart from the shower and toilet block.
Nestling under the watchful 'eye' of Watermouth Castle and at the side of a wonderful secluded harbour, our North Devon campsite encourages you to relax and enjoy the dramatic scenery in what is reputed to be one of the most unspoilt areas in the UK.
We are happy to promote that Watermouth Cove is a 'Pet Friendly Park' - ideal if you're planning a North Devon holiday with your dog. We offer your pooch access to not just your pitch but our Beach Hut Cafe-Bar and, once they have enjoyed that experience, they have full access throughout our Cove and pool area. Up on the Headland they will be able to enjoy the new exercise area.
We boast a stunning Shower and Toilet Block, a modern unit with easy access, both ladies and gents sections have a special family shower room, as well as electric points for hair dryers, bigger showers, a light and airy building. There is also a shower/toilet with a new modern "Easy Access".
Free modern showers with constant hot water

Deep washing-up sinks with drainers and hot water

Serviced Pitches with grey waste and water

All Weather Pitches for Tourers, Tents, Motorhomes and Campervans

Hard Standings for Motorhomes

Laundrette on site with washers and dryers - ironing facilities

Harbour views for some pitches

Some Headland Pitches with amazing views

Electric hook-ups

Grass pitches with hook-up

All Weather Pitches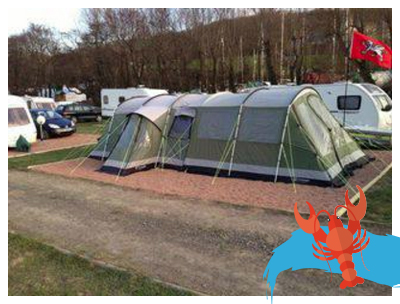 Listening to our customers over the years, we are always looking to make improvements. We undertook extensive groundworks and added another category to our North Devon camping fields.
We've added 50% in size to selected grass pitches and installed their own water and grey waste, making our site ideal for the traditional campers/caravanners who prefer to feel the grass under their feet but will now have the benefit of these new connections.
We've also introduced 'All Weather Pitches' (AWP) to the Holiday Park. Due to many requests over the last few years, we were very proud to be able to offer AWPs. They were specifically designed to give maximum drainage also giving extra comfort. They are constructed on a layer of chippings with a topping of smooth pea gravel to ensure the safest contact patch with your groundsheet. Whether you have a tent, tourer or motorhome there's nothing worse than traipsing mud into your unit or getting that nasty damp mouldy smell coming from under your groundsheet. These pitches are fully serviced with electric and TV point. More importantly, no more back and forth to the tap and drain as they also boast their own water supply and grey waste.
Please note we strongly recommend using "rock pegs" for all tents and awnings when selecting an AWP. These are relatively economical and can be purchased from any good camping outlet. Should you forget we do stock them in our shop as an emergency measure.
Pitch Descriptions
We have three categories of All Weather Pitch (AWP)
Pitches SP12 To SP16 - SP29 to SP33 - SP46 to SP50 are 100% all weather pitches for camping in North Devon. Rest assured no matter how much rain, sleet or even snow, you will still be dry and comfortable on you own patch of pea gravel enclosed with half round timber. We have engineered three layers of different sized stone under the surface connecting the AWPs to drain all water away. These pitches are perfect for everything from pup tent to twin wheeled motorhomes. A good size at over 10m x 7m.
SP64 to SP66 are also full AWP pitches but because of access, these are only suitable for tents. But still a large pitch at 10m x 7m.

Shingle and Grass Pitch - Large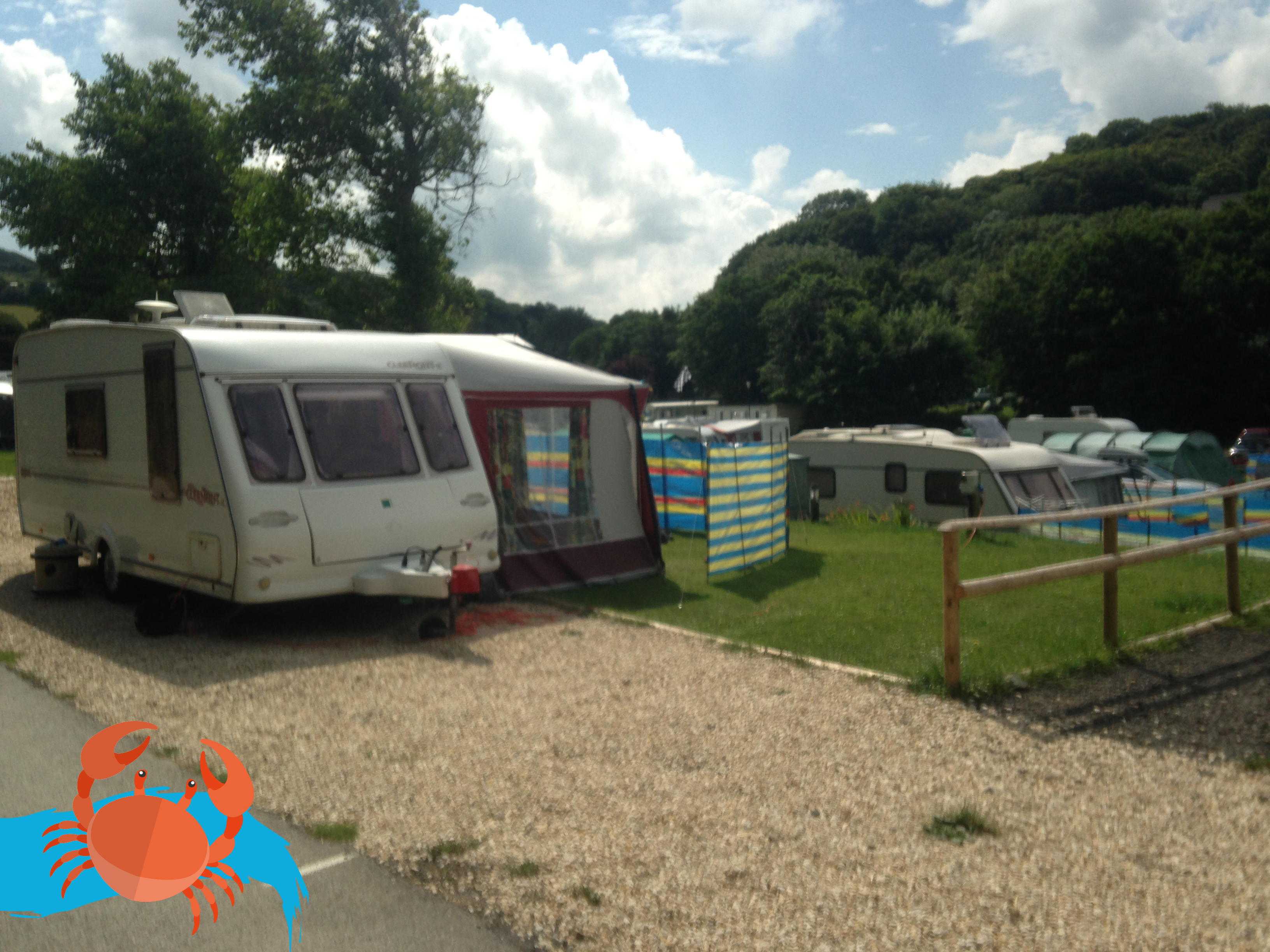 Pitches SP74 to SP80 have been designed for the people that don't want their caravan or motorhome to be too affected by the weather conditions, but still enjoy grass between their toes! These pitches have shingle for your vehicle or caravan and grass to the front for the awning or porch and at 10m x 10m are specifically for the larger motorhomes or long tourers. Depending on the size of your caravan it is not always possible to park your vehicle alongside. There are plenty of parking spaces down on the Park.

Shingle and Grass - Small

Pitches SP17 and SP18 - these are the same construction as SP74 - SP80 (shingle and grass) but for the smaller motorhome or campervan but still 12m x 8m.

Hard Standing and Grass

Pitches SP81 to SP89 instead of shingle these are concrete with grass to the side. At 9m x 8m, they are perfect for the smaller motorhome or campervan looking to pitch up at our North Devon campsite.
Grass Pitch - Fully Serviced - Main Field
We undertook a fantastic new make-over for pitches SP35 to SP45 at our North Devon campsite. Boasting more meterage, their average size is now anything up to 15m x 10m. These pitches all have electric and your own drinking water and grey waste.
Please note: due to access Pitches SP51 to SP63 are best suited for tents only.
Grass Pitches - Main Field
The remaining grass pitches on our main field are 9m x 8m with their own electric hook-up and have communal water points. These are good for those planning to holiday in North Devon in tents and tourers alike.
Bad for Business - Good for Customers!
In 2015 during our Winter Season we returned over 50% of our Tent Field back to nature leaving just 21 pitches. We've been able to improve these remaining pitches; 15 are nearly twice the size of the old pitches, and now have the benefit of water, grey waste and electricity.
We also offer 6 exclusive non-serviced pitches with unparalleled views - undoubtedly some of the most spectacular anywhere in the country. For parties interested in booking these pitches, please be aware that because of their location they are not necessarily child friendly. Before booking we recommend that you give one of the team a call to explain.
Our new 'Doggie Exercise Area'
A special designated "Doggie Exercise Area" has been created up on the headland. We're happy to be a dog friendly campsite in North Devon, and have opened this area for all doggie visitors to have a great run-around. Completely fenced off from the main camping areas, you and your four legged friend will have a great time enjoying loads of running and playing.