We are thrilled that for the 2016 season we at last have our new shower and toilet block in a brand new building which is ready and waiting for our guests. A modern unit with easy access, both ladies and gents sections have a special family shower room, as well as electric points for hair dryers, bigger showers, a light and airy building. There is also a shower/toilet with a new modern "Easy Access".
Cleaned and checked twice daily, our showers and toilets are centrally located on the park and have an access ramp at the entrance area.
Hot showers are always available (except for cleaning sessions) and there is no charge for these facilities.
Close to the shower and toilet block, the wash-up area has large deep sinks and drainers and a constant supply of hot water.
The Laundry Room is located by the main entrance to the camping fields and has washers, dryers and ironing facilities. The charges for these are £5 for washing machine and £1 for tumble dryer. To use the washing machine you simply need to purchase a 'washing token' at the reception.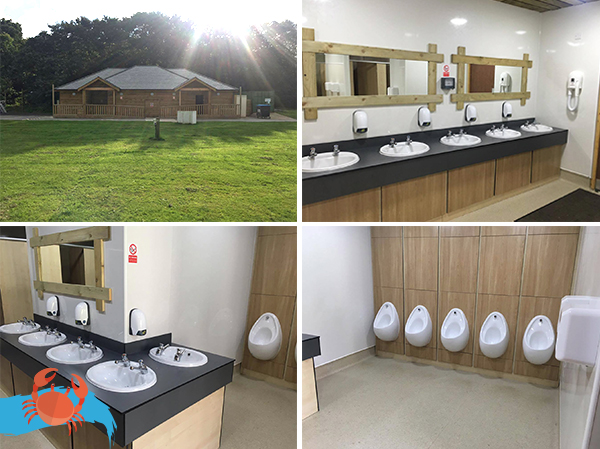 We also haven't forgotten our four legged friends!
In 2018 we added a 'doggie shower' on the end of our Toilet and Shower Block. You can wash your dog off after they've been playing in the sea, or are covered in sand. It's the perfect addition you never thought you needed.