North Devon's Only Jet Rib Safari Centre
Don't get left out. Jet Ski Watermouth is the ONLY centre in the UK were you can ride along with your friends or family on a Jet Rib Safari in our NEW Jet Rib. You can now experience the thrill in the safety of our 'Sealver' Jet Ski Rib from as little as £45 per person.

Go on, try it, there is nowhere else in England that can offer your whole family the experience of a lifetime.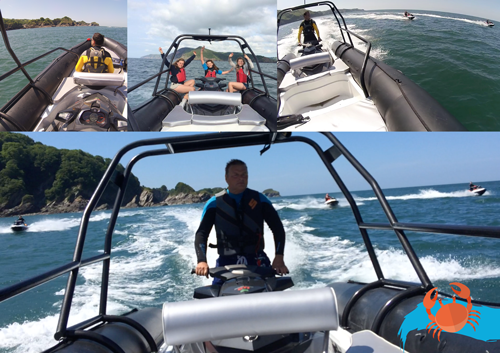 Our instructor for the Jet Rib Safari and Towable Toy Ride is a fully trained RYA – PW Instructor with extensive experience in most aspects of watercraft. So you can be assured that you're getting the best of the best! Our Jet Ski Master and his crew are passionate about their work, be it an adrenalin-fuelled Jet Rib safari or just pulling fun inflatables.
Out on the water, enjoy watching the wildlife in their own surroundings, witness the views of our beautiful North Devon landscape from the coast, and be ready for thrills galore as you skim along as part of the Rib Safari headed by your own Jet Ski Master. These experiences are second to none; give one of our Jet Rib excursions a try and you won't regret it!

Not to mention to be able to take pictures of the 66 foot bronze-clad sculpture 'Verity' created by world famous artist Damien Hirst from an angle that only a few have seen is a must…what a fantastic job to have.
Many of our guests are new to the jet ski experience, those wishing to purchase a ski are aware of the mine field of suppliers and pitfalls they could face We are often asked to recommend 'somebody', I am lucky to be in a position of total confidence to be able to do just that. For a 'one stop shop' from the modest end jet ski to one of the biggest powerboats, from a one man ringo to the ultimate new toy the 'Flyboard' there is nobody better than Len Russell at Russell Powerboats. Find him on http://www.russellpowerboats.co.uk